Pharmacist developed COATS ALOE™


The COATS ALOE™ products combine science and nature with our unique blend of stabilized aloe along with other key ingredients.
COATS ALOE™ is the natural choice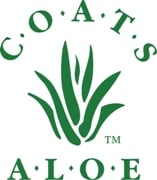 The COATS ALOE™ products are manufactured utilizing a patented, standardized process to ensure quality and consistency.
COATS ALOE™ also offers a topical analgesic liniment
for deep, penetrating pain relief.
COATS ALOE™ ANALGESIC LINIMENT utilizes a unique, synergistic formula containing
aloe, methyl salicylate, eucalyptus oil and menthol provides temporary relief of minor pain
associated with arthritis, simple backache, muscle sprains, muscle strains, bruises and cramps.
Also available for general health, COATS ALOE™ GEL DRINK (currently out of stock).
COATS ALOE™ GEL DRINK is available in Unflavored/Natural or Kiwi Berry